Today's Discussion: The Benefits of Tankless Water Heaters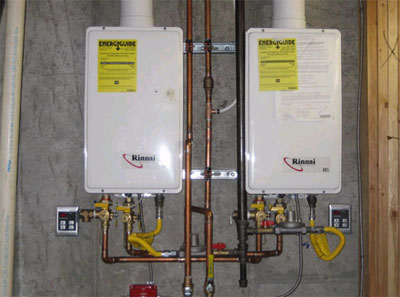 Due to the rising cost of utilities as well as the increased concern that traditional water heaters are environmentally incompatible, many households are opting to replace these appliances with new, tankless water heaters. At Laguna Hills Swift Plumbing, we help homeowners make the transition to this new way of heating the water in their homes.
Why You Should Consider a Tankless Water Heater
If your electric or gas bill is higher than you would like, switching out your old water heater for a tankless water heater may be the solution. Traditional water heaters continuously heat the water in the tank whether the tank is in operation or not. This is a waste of energy that shows up in the form of extra dollars on your monthly utility bill.
Tankless water heaters heat the water on demand. When you turn on the faucet to your kitchen sink or you turn on the shower, the tankless water begins to heat the water. Most homeowners find that there is very little difference in how long it takes for the water to heat up when comparing the two types of heaters.
Cost of a Tankless System
One of the reasons that homeowners may be hesitant about installing one of these systems is the fact that the initial costs are rather high. When compared to traditional water heaters, tankless water heaters are quite a bit more expensive. However, what homeowners need to consider is how much a tankless heater will save them years down the line.
The amount of energy used to heat the water in a tankless system is minimal compared to traditional water heaters. Therefore, it is reasonable to expect that a tankless system could pay for itself over the course of several years.
Homeowners that are interested in a tankless system, but are not sure they have the money to make such a large initial investment may want to consider contacting their local plumbing supply company. Sometimes these companies can offer special financing offers making it affordable to install a tankless system. Special tax credits can also help defray the costs of purchasing a tankless system.
Who Uses a Tankless Water Heater?
All types of households, even businesses, use these systems. They are ideal for large families that use a larger than average amount of hot water each month. Businesses like fitness centers, health clubs, and even medical facilities that use hot water on a frequent basis can benefit from tankless water heaters.
In addition to these businesses, landlords that operate multi-unit complexes may want to consider converting their units to run on a tankless system. This can reduce costs for both the landlord and their tenants.
Installing a Tankless System
Installing one of these systems does require plumbing expertise. Homeowners or business owners that attempt to tackle the installation themselves risk damaging the equipment and voiding any warranties attached to the system. The knowledgeable and licensed plumbers at Laguna Hills Swift Plumbing are ready to help you properly install a tankless water heater so that warranties are preserved and the users can enjoy the economic benefits of the heaters as soon as possible.
Call us today to learn more!
Tags: water heaters